The VPass.exe file will, when installed on a Windows print server or Windows PC, allow you to print badges for visitors signing in. We recommend using the Brother QL-820NWB, however other printers will likely work as well. To install the Windows VPass.exe file…
1. Go to your Admin Dashboard page (home icon).
2. Select Download Printer App.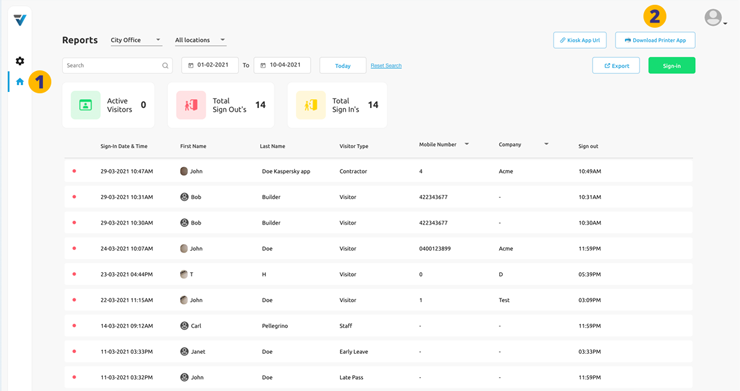 The VPass.exe file opens as the "VPass Auto Print" Windows App. Enter your admin login details (3) and hit the Login button (4).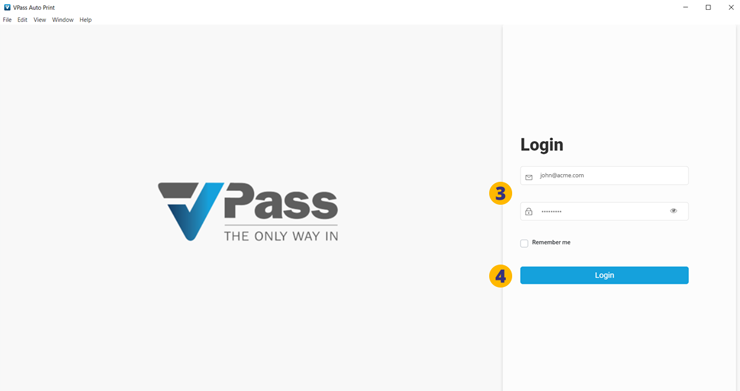 Then, enter in your Site (5) and Location (6) where the printer will be used.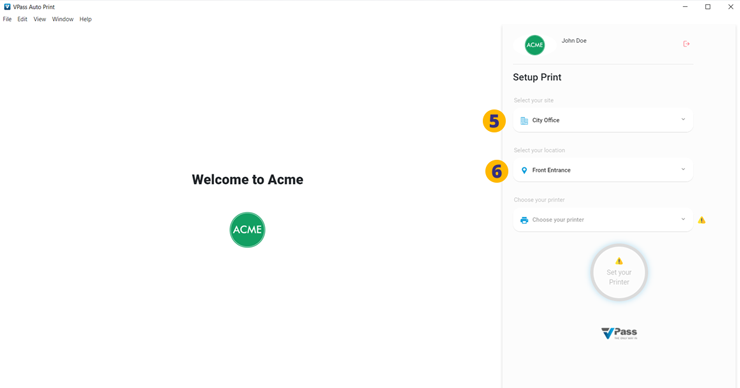 Next, ensure that your printer is turned on and is using the same network that the Windows print server or Windows PC is using. NB: The kiosk tablet you may be using can be on any network as it only displays web pages sourced from your admin dashboard cloud account (eg: dashboard.vpass.io). The Windows Printer App communicates "Listens" to the cloud account, not the kiosk tablet.
7. Select your printer.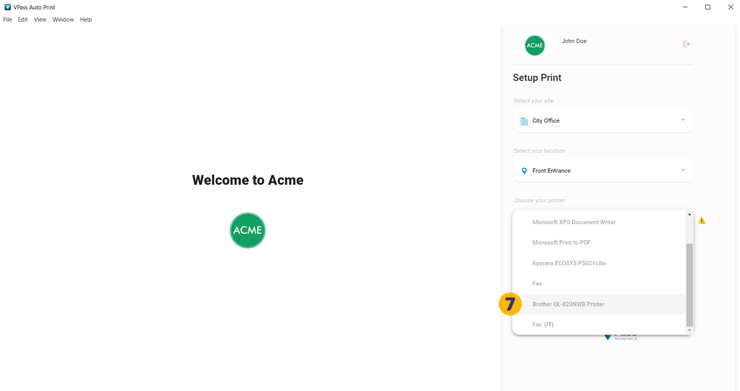 8. The "VPass Auto Print" Windows App will now display the Listening state. Assuming that the "Auto Print Badge" feature is turned on for the required Visitor Type(s), then the badge should print within a few seconds of the sign in being completed.
The "VPass Auto Print" Windows App needs to be left open and running.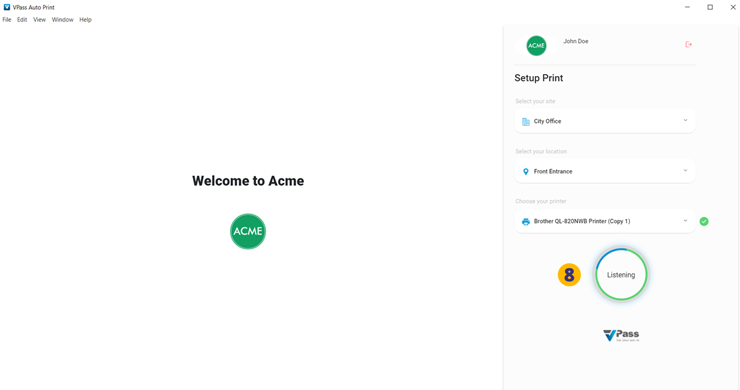 ---
Further Adjustments
9. You may need to tweak a few settings in the Brother QL-820NWB Printing Preferences page. The page can be reached by going to your Windows system settings, open your Printers and scanners page.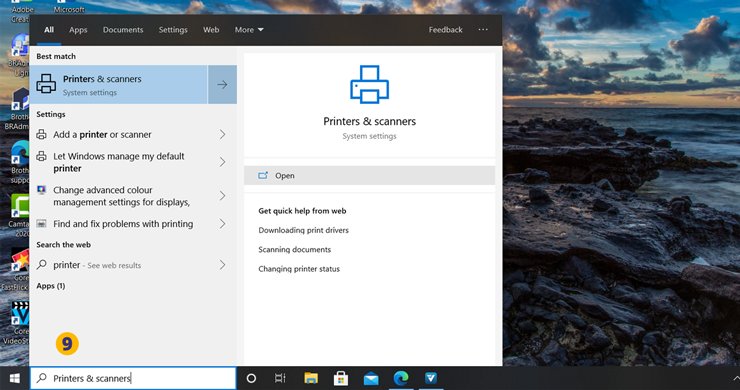 10. Manage the QL-820NWB printer.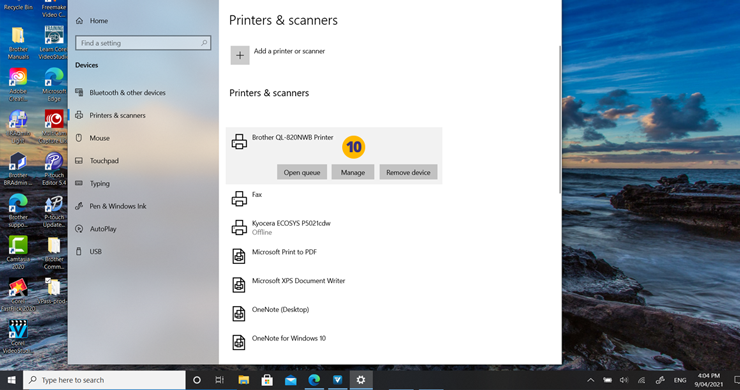 11. Select Printing Preferences.
12. Adjust the Length to 120mm. This will ensure that the badge prints to the one page.

Additional Settings:
• Paper Size: 62mm
• Paper Type: Monochrome
• Orientation: Portrait
• Quality: High Resolution
• Also check the boxes for Cut every 1 label, Cut at end and Trim tape after data.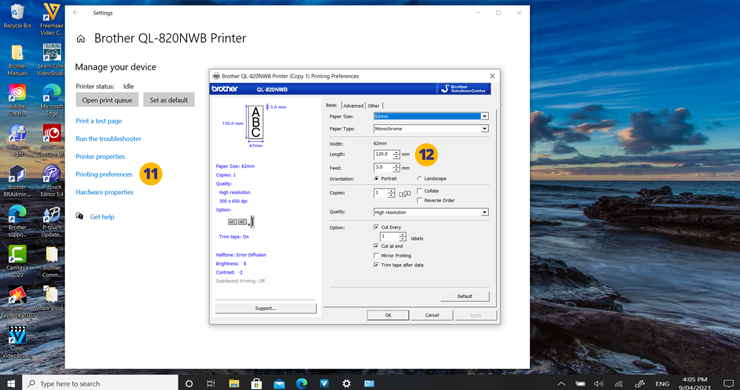 Click here to view enlarged image.
Ensure that the Paper Size is set to just 62mm… not 62mm x 100mm.
Ensure that the DK-22205 Print Roll is used.
13. You may also wish to adjust the brightness and contrast to gain a clearer image.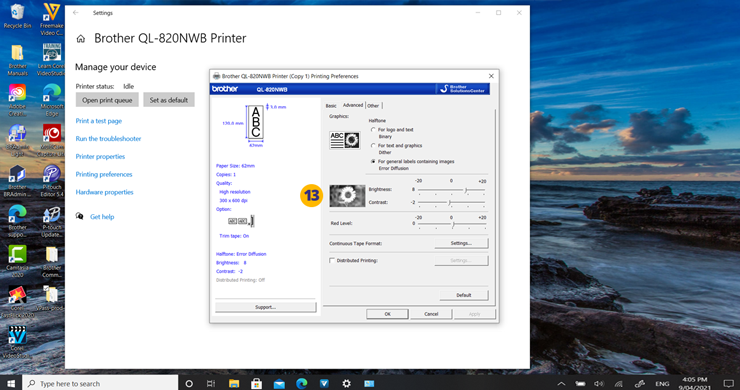 Click here to view enlarged image.
---
Whitelisting
You may need to whitelist the following URLs on your PC or print server. These vary according to your country:
The Account Owner, Super Admin and Admin can download the VPass.exe file.
V3-030